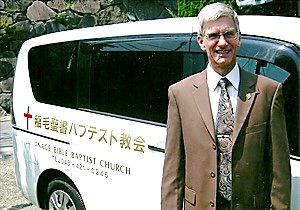 【Missionary Pastor: Robert Barley】
The Inage Bible Baptist Church was started in 1987 with the purpose of declaring to everyone the Gospel, which is the death, burial, and resurrection of Christ (1 Corinthians 15: 1-8), so that they too can understand about, and receive the Lord Jesus Christ as their personal Saviour also.
After a person receives the Lord Jesus Christ as their personal Saviour, they need to learn all that the Lord taught in His Word, the Bible.
Jesus said, "Go ye therefore, and teach all nations, baptizing them in the name of the Father, and of the Son, and of the Holy Ghost: Teaching them to observe all things whatsoever I have commanded you: and , lo, I am with you always, even unto the end of the world. Amen." (Matthew 28: 19-20).
This is Inage Bible Baptist Church's purpose today also. Through our Sonday School on Sonday morning, the Sonday morning worship service, Sonday afternoon Prayer meeting and Bible study, and Wednesday Evening Prayer meeting and Bible Study, we learn the Word of God so that all that come can understand about the Lord Jesus Christ, and His gift of eternal life that He has to give to all who will receive Him, and to help believers in the Lord to grow in the knowledge and understanding of the Word of God-the Bible. We also support missionaries who go to other countries with the great news of eternal life through the Lord Jesus Christ. This is our purpose, and the work that the Lord has given to us to do.
Those who visit the Inage Bible Baptist Church can see the joy and love of the Lord in the services and fellowship of God's people. It truly is a blessing, and it is "the Inage way"! Christian, and non-Christian are welcomed to come, and enjoy "the Inage way", and learn the Bible with us. We trust that you too will come visit us.
※We belong to JAPAN BAPTIST BIBLE FELLOWSHIP (JBBF)
(We have no relation to Jehovah's Witnesses, Mormon Church nor Unification Church.)